A enter a shadowy building. You turn and enter the first room. Inside, a sign says "Whimpsters. Feel free to feed and pet"
On the next sign, it says, "Chicken Smoothie Adoptables" However, there is only one wolf. It seems to want to take you to the trees. Maybe the rest of the pack is there. You pet it, and then follow it.
The next pen has "Somethings" on it. There is quite a lot of differant creatures in there. You take a look.
The pen next to it has "Valenth" on it. Inside, eggs and hatchling creature run about. Next to the first sign, another one says, "Please feed them the correct foods" Next to that, is all sorts off foods, each with the name of the creature to feed it to on. You feed all the creatures with the foods they like.
Inside here, some strange creatures ran about. On the sign, it says "Evelon Pets"
As you turn to leave, a Ska flutters in your face.
The last pen has the name "Other Adoptables" on it. The creatures in here are very varied.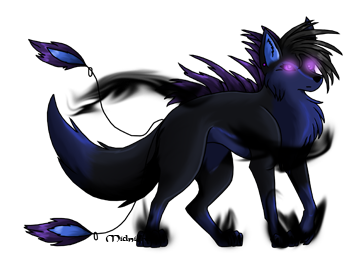 And my Umbree's! >
You turn to leave, and you hear a howl. It means Goodbye.
Those are my adoptables! Post of you like them!
[img][/img]